Liturgical Prayers from the Christian East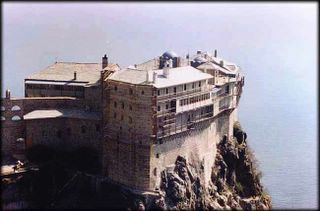 Photo: Simonopetra monastery on Mount Athos
For any who are unfamiliar with Eastern Christian prayer and wish to learn more, an excellent starting place is the "
Daily Prayers for Orthodox Christians
" on the website of the Greek Orthodox Archdiocese of America. I especially recommend the "Service of Preparation for Holy Communion", which begins about halfway down the page and continues to the end of the page. It is a remarkable way to enrich your encounter with Christ in the Eucharist. It begins with prayers to be said the evening before receiving, continues with prayers for the morning of the day you intend to receive, and concludes with prayers of thanksgiving after Holy Communion.